.:: PRODUCT RANGE ::.
Below are our product details :
ANGLES & BEAM :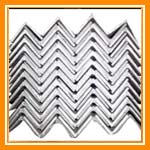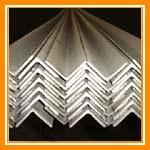 We are the manufacturers of Stainless Steel Angles & Beam.
If you require stainless steel Angles, contact us and one of our representatives will be happy to help you order just what you need. We are also available to answer questions you may have about our Stainless Steel Angles or any of our other products.
Stainless Steel Angles :
Size

AV. Weight

In mm

KG / MTR.

KG / FT

20 x 20 x 3

0.90

0.27

25 x 25 x 3

1.10

0.34

25 x 25 x 5

1.80

0.55

25 x 25 x 6

2.10

0.64

30 x 30 x 3

1.40

0.43

30 x 30 x 4

1.08

0.54

30 x 30 x 5

2.2

0.87

30 x 30 x 6

2.5

0.77

35 x 35 x 3

1.60

0.49

35 x 35 x 4

2.10

0.64

35 x 35 x 5

2.60

0.79

38 x 38 x 3

1.70

0.52

40 x 40 x 4

2.40

0.73

40 x 40 x 5

3.00

0.91

40 x 40 x 6

3.50

1.07

50 x 50 x 3

2.3

0.69

50 x 50 x 4

3.00

0.91

50 x 50 x 5

3.80

1.16

50 x 50 x 6

4.50

1.37

65 x 65 x 5

4.90

1.49

65 x 65 x 6

5.80

1.77

65 x 65 x 8

7.70

2.35

65 x 65 x 10

9.40

2.86

75 x 75 x 5

5.70

1.74

75 x 75 x 6

6.80

2.07

75 x 75 x 8

8.90

2.71

75 x 75 x 10

11.00

3.35

90 x 90 x 6

8.20

2.71

90 x 90 x 8

10.80

3.29

100 x 100 x 6

9.20

2.80

100 x 100 x 8

12.10

3.69

100 x 100 x 10

14.90

4.54

100 x 100 x 12

17.70

5.40